Landscape Contractor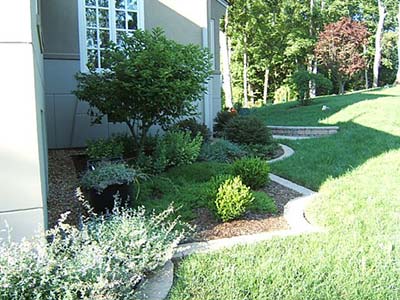 Many people that are getting new homes built look for properties that have sufficient land to install some front and backyard spaces. A great landscape becomes the backdrop of your home and needs to be designed with as much attention to detail as the structure that stands on it. It's also best to look for a builder that will also handle the landscaping aspect of the project; it will ensure all the features are designed and installed in tandem with the structure itself.
It helps in coordinating the different stages of the project and you will get outdoor spaces that enhance the appeal and aesthetics of your home. Neal Ragan has been providing customized solutions to property owners in and around Johnson City, Kingsport, Bristol and Mountain City.
They have offices in Damascus and Abingdon to cater customers there and in the surrounding areas. Well-established home builders are able to handle landscape design and installation as well. They have expert landscape designers on their team who will work closely with you to ensure that the plans are right in line with your ideas and preferences.
Landscape Design - Aspects To Consider
There are a number of different aspects that will be taken into consideration when a landscape is being planned, such as:
Size of the available space- The local landscaping contractor will survey the area to get an idea of how much space is available for the garden features. They will then demarcate the spaces based on the discussions they have had with you during the initial phase of the project.
Different elements and features- A landscape will be well-balanced only when it has various features in the right proportion. And so, they will ensure the space is a great blend of softscaping, hardscaping, fire features, water features and decorative elements.
Paved areas- There are a number of areas such as driveways, pathways, walkways, patios, and decks that are open to the air and it's important to choose the right surface materials for these areas. You can choose from concrete, brick or natural stone pavers based on the styling of your home and your personal preferences.
Plantings- The plants, trees, and shrubs that will be installed in your landscape should be chosen with care. It's a good idea to choose plants that have minimal watering needs. Choose some good perennials and other flowering plants. Consider getting flower beds installed and decide where you want your lawns to be.
Retaining walls- If there is sloping land in the outdoor areas of your home, you may have to excavate some of them and level the land to install outdoor features. Retaining walls would have to be built at these points to provide support to the exposed rock and soil.
In addition to all these features and elements, you may want outdoor living structures like an outdoor kitchen, a pool house, pergolas, gazebos, decks, fireplaces fire pits, fountains, waterfalls, and patios installed.
A skilled and experienced landscape designer would be able to provide excellent solutions to ensure your landscape is just as you envisioned it to be. Companies like Neal Ragan Construction, Inc. offer comprehensive landscape planning and installation solutions that will meet your requirements and budget.
"MORE ARTICLES"
Pavers
Retaining Walls
Home Builder
Remodeling