Pavers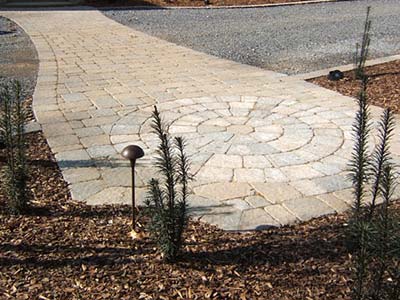 When landscape designers are planning their projects, they focus on creating functional spaces that will look aesthetically appealing. One more objective is to create spaces that will be hardwearing and last long. With this in view, they tend to use pavers for various applications. Pavers are available in various shapes, sizes and designs and this gives landscapers the design flexibility to create unique-looking areas that will be durable too.
Neal Ragan Construction, Inc. provides excellent paver installation solutions to customers across Johnson City, Kingsport, Bristol and Mountain City, TN; with offices in Damascus and Abingdon, VA.
Paving Stones
When it comes to landscaping, there is hardly any material more beautiful than natural stone. Many homeowners like the way it looks and opt for paving stones that are made of natural stones such as travertine, slate, bluestone, sandstone, flagstone etc. These could be smooth or rough polished and you can choose from stones of various shapes and sizes.
Patio Pavers
Patios are a great addition to your home. However this space is typically open to the air and has to be able to weather the elements. This makes it important to use materials that are durable. With this in view, patio pavers are an excellent material to use. These could be made with natural stone, concrete or brick. You will find that there is a wide variety to choose from and you can also choose edging stones and curbing that complements the look of these stones.
Concrete Pavers
When homeowners are looking for any materials for their outdoor spaces, their priority is to have low-maintenance options. With this in view, concrete pavers are an excellent choice. They are available in a very large variety, complement the look of any type of landscaping and they are hardy and long lasting too. This makes them the perfect choice for your patio, deck, outdoor kitchen, or any other open space on your property, where you want some flooring installed.
Brick Pavers
Any kind of brick element looks stunning in a landscape and brick pavers are no different. They are excellent paving material that can be used to great effect in porch areas, entranceways, driveways, pathways as well as outdoor kitchen areas. You can choose the color, design and shape of pavers you want and can be sure they will create a stunning effect in that space.
Driveway Pavers
Driveways are one feature in the outdoor spaces of your home that tend to see a significant amount of wear and tear. This makes it important to use extremely heavy-duty and durable flooring materials in the installation. Today, you will find there are driveway pavers of different kinds and this means you can create the kind of look you want on your property. Sealing these pavers ensures they won't get stained with oil and will be easy to maintain too.
Hire the services of a good and reliable company like Neal Ragan Construction, Inc. for the project. That will ensure your landscape features will be durable and add to the aesthetic and value of your property.
"MORE ARTICLES"
Retaining Walls
Landscape Contractor
Home Builder
Remodeling